Hello. 
I have just received my new 24mm strap which is now on my Omega Ploprof (new model). I must say it is a great improvement over the Omega rubber strap as it has rather too much writing on it and I now feel much more like Jacques Cousteau.
I have to ask you two questions though:
First, do you intend to produce any other colors?
Second, I and I'm sure many others would love to replace the standard Omega strap with yours but retain the (very good) Omega deployment clasp. Ideally, you'd provide a strap two millimeters narrower (20mm) at the strap end with pin holes drilled through… Hey, think how many new Ploprofs have been sold – I bought two – black and white dials!
Thanks, 
Richard K, London, United Kingdom
Dear Isofrane,
Just got my orange 22mm strap for my TAG Heuer 500m Calibre 5 and had to let you know how great it is! I've been wearing this watch for about 2 years on it's normal stainless bracelet. I've gotten many compliments over the past two years on this watch, but I have to say that in the past 12 hours I've received a ton of compliments! This band looks amazing and really makes this black faced watch pop! Feels great, looks great and smells great! How long with the smell last? Just curious. I am really loving the new band. It has brought a whole new life to my favorite watch! Thanks for a great product and the fast shipment!
Mike M. Converse, TX , USA
Dear Isofrane Staff,
I am finding it difficult to find the time and words for a full review and perhaps this is not necessary anyway. If a picture is worth a thousand words, then please witness first-hand what I completely entrust to your stunning products…and yes, these timpeieces are still used in the true environments for which they were originally designed.
Warmest regards and a sincere thanks to you all,
D.G.H Brisbane Australia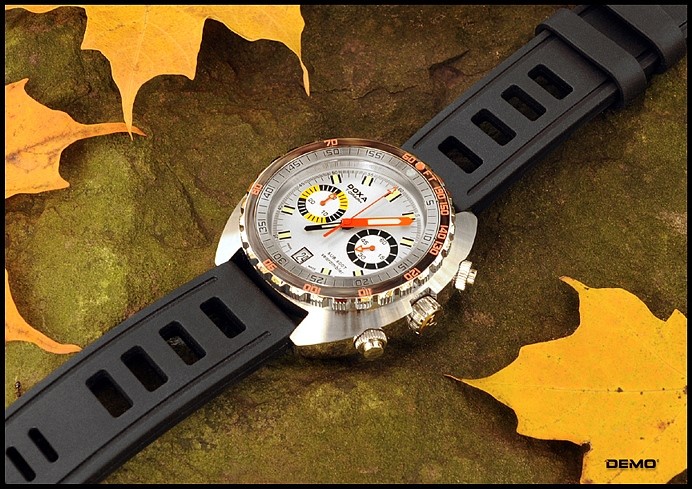 Hello!
you won my loyalty with your excellent customer service, honesty and willingness to accept my feedback without telling me I was wrong. A quality product will get a customer to try a product, but what keeps people coming back is how they are treated.
Thank you and keep up the good work,
Tim T. Blaine, MN, USA
Hello,
I purchased a strap from you last week and it arrived yesterday. I wanted to thank you for the Priority shipping in light of the ash cloud delay. I have the strap mounted on a current version Blancpain Fifty Fathoms. It works and looks fantastic. I really appreciate the work and effort that went into recreating this iconic strap. You really nailed the material composition and finish; it is truly an outstanding piece of work. I'm looking forward to the 22mm size being offered and expect to order a few more once those are available. I would also love to see additional buckle options including titanium and polished steel so as to better match a variety of watch bands and models. It would be great if you could offer alternate buckles separately from the strap for DIY change-ups. I figured I'd pass my thoughts along. Once again, great work!
Thanks, 
Trey W. Villa Rica, GA, USA
Hello,
I am absolutely loving my 24mm Isofrane strap, it is the best strap out there on the market today. I know you are developing a 22mm version. Could you please tell me when it will be ready to order. Regards, Dave D. Palmyra, NY, USA
I just received my 24mm to put on my ZINEX, and the strap lives up to it's reputation. Hands down the best I have ever had. I was wondering when you thought the 22 and 20mm might be available. I will of course need both! Thanks, 
Joe K. Clarkesville, Georgia, USA
Please read what Isofrane owners say:
http://www.thedivewatchconnection.com/forum/viewtopic.php?f=5&t=2113
Dear ISOfrane
Received the strap and it is on my Kobold Arctic Diver now. In 25 years of wearing rubber and / or synthetic dive straps, I have to say that this is the most comfortable one that I have ever had the opportunity to wear. The fit, finish and wearing comfort, as well as how it looks on the wrist and on the watch, are exceptional.
Thank you very much and congratulations on an excellent product!
Best regards,
James D. B.
Toronto,ON, Canada
A few weeks ago, member "alexkarbo" posted a thread wondering what was up with http://www.isofrane.com. It piqued my interest because last year, I'd heard a rumor that Isofrane may be making a comeback. Since hearing, I was hoping they would make a return, as I've been looking for a high quality, non-silicone, vintage-inspired strap to mate to my vintage Aquadive Model 50.
Using a bit of "moderator magic" I was able to contact Isofrane to see if I could get some samples to review for you guys, and to test for myself. They were very responsive and sent two straps with the three buckles that they'll be offering. Their first model strap is a PloProf style(for lack of a better term) but if you're familiar with vintage divers, other makers used the same style too. They did tell me that there will be other models/styles available soon, so it sounds like there will be lots to look forward to from Isofrane.
Now just so we're clear, this review is completely uninfluenced by "feebies", discounts etc. While these straps and buckles were sent to me free of charge, I will be returning them as soon as the review is complete.
ISOfrane Is Back! And Along With It, 1970s Diver-chic Style
Resurrected by the Synchron watch group, who happen to be the same people behind the rebirth of another ?70s icon, the DOXA dive watch, the new ISOfrane straps are true to their heritage while bearing several improvements. The new strap looks almost identical to the original, with its trademark angle-cut end, longitudinal channels and slotted tang adjustments. On closer examination, the new ISOfrane is thicker but softer, with a beefier, screwed-in buckle in place of the stamped steel one on the original. The back of the strap still retains the horizontal texturing that keeps it from sliding around on a wet neoprene sleeve.
It's not easy to excite the entire watch community with the release of a new strap, especially one made of rubber… But when that release is the reissue of a rare vintage band by a brand that was long defunct, even we watchnerds sit up and take notice, or in DeskDivers case, put fingers on keyboards.
I received a production sample of the new ISOfrane strap two weeks ago and have been wearing it around the clock since then. I haven't dived it, but it's been wet and sweaty and stretched and otherwise treated…like any other rubber strap I own, i.e. rough.